I finished a few more conversions for my Imperial Renegades squad. I built an apostate preacher from the plastic fantasy necromancer. I also finished the sculpting and basing on the renegade sergeant and the ogryn.
Here is the converted apostate preacher. A really quick conversion. I cut off the top of the staff and carefully removed the hand with a skull (this took a while). I then added a cadian hand and put a laspistol on it. I added a cut down cadian head and then sculpted the mask and then the hood.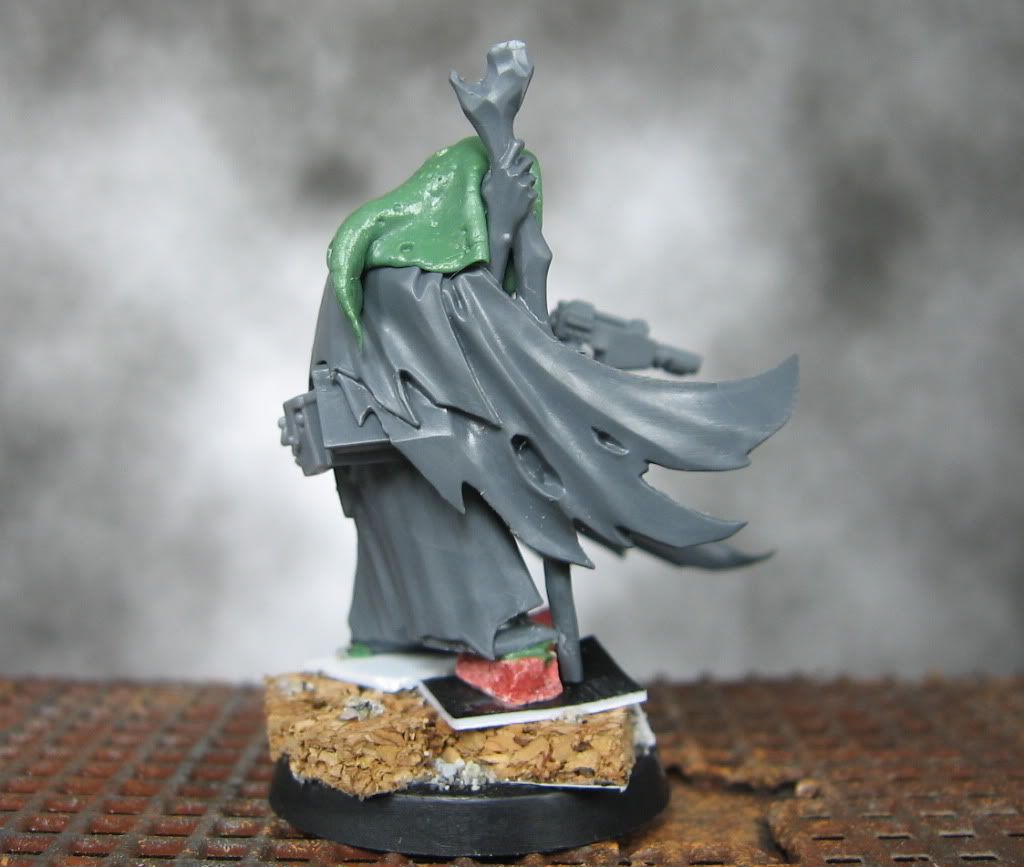 I think he should fit in nicely with the squad while having a very distinct look.
I finally got around to sculpting the left arm on this sergeant. This was my first time successfully sculpting a limb from scratch. I pinned the chainsword to the torso with a paper clip and built the arm up in three layers of greenstuff. The fact he is so large and covered in sores made it much easier to convincingly sculpt it.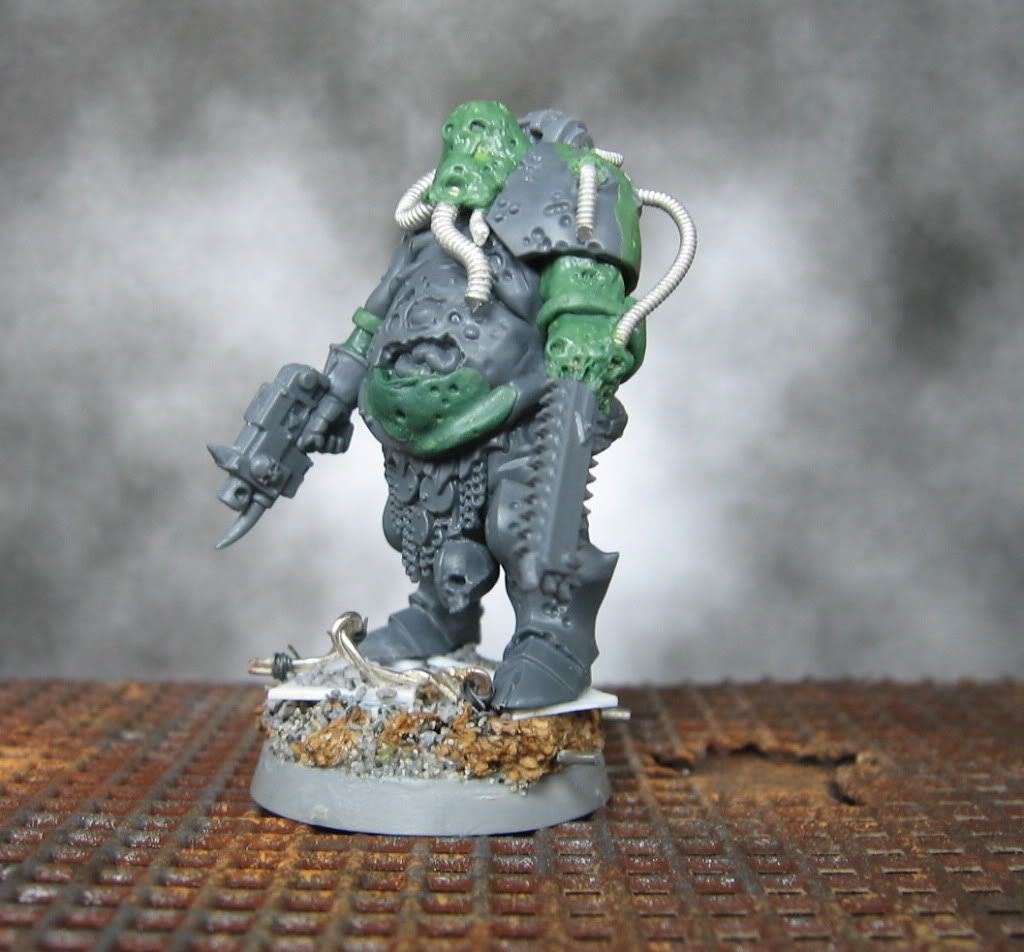 I am excited to get some paint on this model. I am going to try and use some glazes to add bruising and grossness around the sores. We will see how it goes.
I based the ogryn. I'm not sure what stage the last pictures of him were at. I have been slowly adding armour for the last month or so.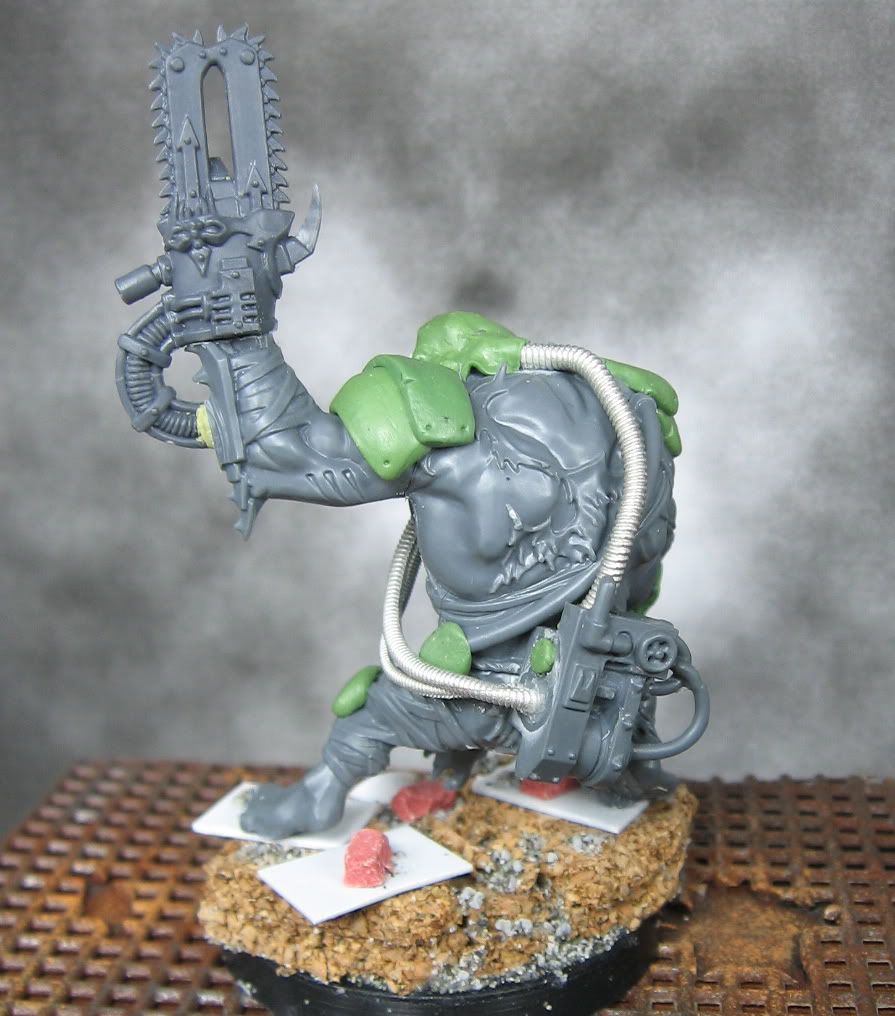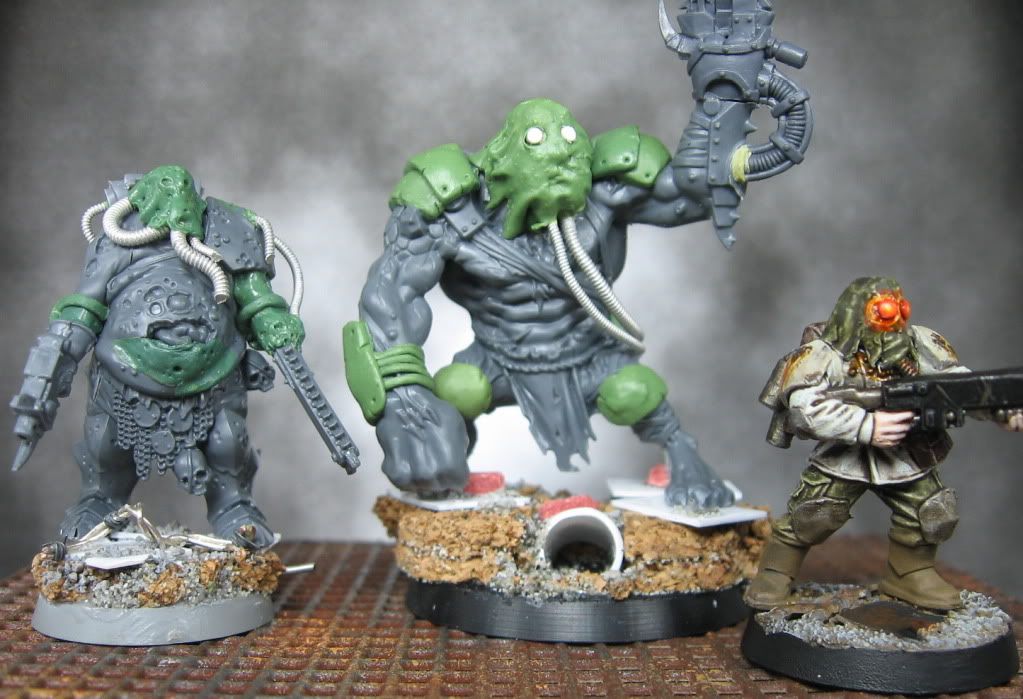 Here is a quick shot to show how big the ogryn and sergeant are.
I did start to paint the deathguard model. I got a bit frustrated with trying to paint my vision so I am going to take a little break from it and paint the ogryn and sergeant next.
My November goals were to paint 10 renegades (I painted 9), 7 deathguard (I painted two), and to finish my canal system. This month I will be a bit busier with work. My goals are to paint 6 more renegades (commander, ogryn, sergeant, preacher, and two others), finish my death guard with scythe, finish at least six canal sections, and paint 4 of some other model (death orks of krieg, maybe malifaux minis, something).
I've also updated the
Servitor conversion tutorial
with some finished servitors. I have some examples built along the same idea by Komfritten from the DS forums. Be sure to check them out.
Thanks to everyone who has been visiting this blog and is referring others to it. This week I've hit 50 followers and 4,000 views in the three months this blog has been running. Thank you for your support. If there are things you think I should add more of to this blog, I would love to hear your input (I know I should paint more models, but that takes time!). Welcome to W40ktenerife, Lantz, and Mark Beardmore who are the newest followers. Thank you for your support!