I've gotten a bit of progress done on the demolition expert I have been working on for the prisoner exchange. As you can see in the pictures, I have basecoats, washes, and some rough highlights finished. I am planning to do another light wash and then some more fine edge highlights and then work on weathering and basing. I am hoping to have this project out the door by Wednesday. Last post I showed the prisoner I received, so you can tell how behind I am.
The prisoner has a bottle of run in his hand. I am going to be bold and try to paint the top of the bottle empty. I am pretty nervous about it though. I made the label by painting on a piece of paper, gluing it on, varnishing it, and then washing with Gryphonne Sepia. The recipient likes Captain Morgan's rum, so I tried to recreate it a little. I wasn't up to painting a 2mm Captain on the label though.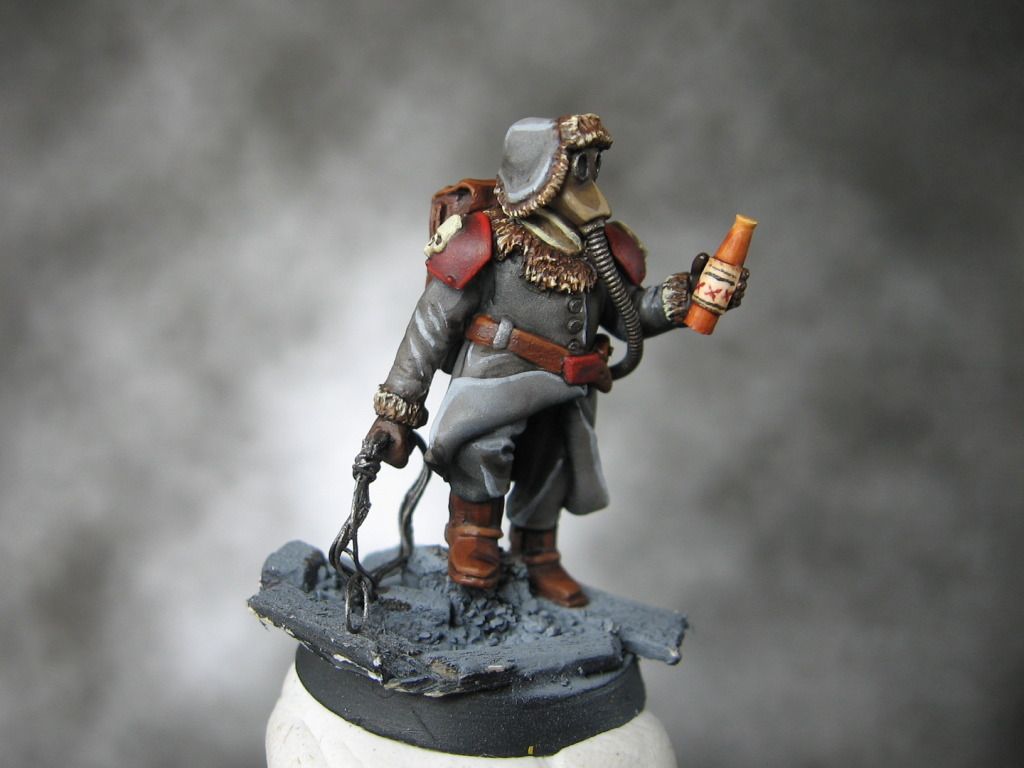 I am quite pleased with how the fut turned out. I think it lends some warmth to the model. The grey is quite a cold colour, so the warmth of the fur and the leather helps to humanize the model (in my opinion, although that does sound a bit overly artsy and intellectual to me).
Here is another picture before many washes or highlights. Just so you can see how it looked at that stage too. Definitely much better with the updated painting.
Thanks for the comments on the model so far. To see the progress to this point and to see the model without paint, just click on the "demolitions expert" tag. Check back next week for an update on my progress.