I finished painting the first Rhino for my Death Guard army. I finished the conversion of this model in March, and started painting it, but didn't finish painting it until now. This is the first 40k vehicle I have painted. I decided to do as much of the painting as possible by airbrush. I only used a brush to apply weathering powders at the end. Most of the rust was done with the airbrush first. The model was base coated with Vallejo Model Air Duck Egg Green and then shadows were painted using Olive Drab. I used VMA Orange and Burnt Umber for the rust.
This model is definitely not perfect. I went way to heavy when painting the vents on the side of the vehicle and with adding the smoke to the smoke launchers. Fortunately I have two more models to rectify this problem on. For some reason I bought Space marine Rhinos (I think so I could get the two Razorback turrets, does anyone want to make a trade for two turrets?) so I built the Havoc Launcher out of plasticard tubing.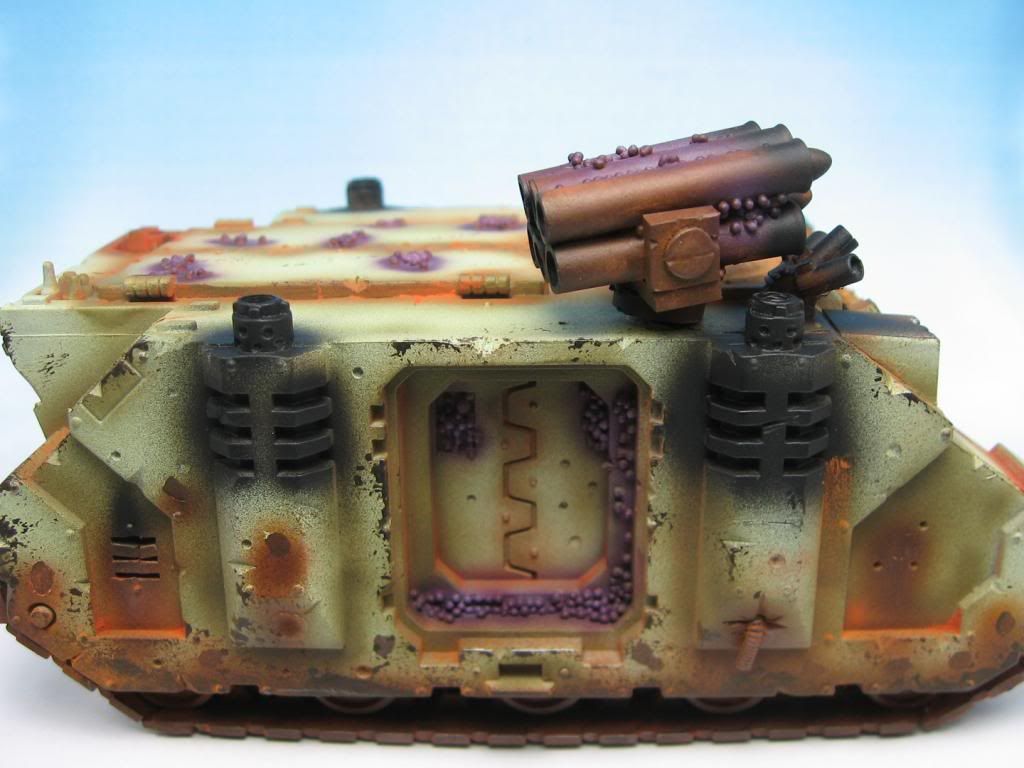 I airbrushed the nurgle sores as well. The purple colour will make more sense once I show some of the other models I am working on at the moment.
I tried using vallejo latex masking fluid on the model. I am not very happy with the round, blotchy areas of chipping it created. I sponged on some other damage and think it looks a lot better. I added the silver to the tracks and edges using a standard pencil.
Too much smoke. So ugly. I didn't put the doors on for some other unknown reason. I think I thought the sores looked cooler on the inside like this.
Thanks for visiting. I have two more rhinos ready for painting as soon as I get around to it. Comments and criticisms are greatly appreciated. Thanks!