In this tutorial I will show you how I built 28mm scale shipping containers from basic materials. In this part I will show the materials you need and the steps for construction. In the next section I will show step-by-step how I painted the models. With this tutorial I will show the steps to build one shipping container. I would recommend building more than one at a time as it is much more time efficient. You can modify the designs to create new combinations of shipping containers with open doors and things. I would estimate that each shipping container takes a little under an hour to completely build and assemble.
Materials
Supplies
-corrugated cardboard (or foamcore board)
-thin card (I used cardstock, cereal box cardboard works fine too)
-corrugated open faced cardboard (I don't know the name for this, what you use on the side. I found this at DeSerres in Canada.)
-plasticard rod (optional)
-hot glue sticks (lots!)
-super glue
-scale ladder (optional)
-flat magnets (optional)
Tools
-utility knife
-exacto knife
-scissors
-glue gun
-cutting matt
-ruler
Dimensions
This tutorial builds a shipping container with final dimensions of around 13.8 cm x 5.4 cm height x 5.4 cm width. Adjust as you see fit.
I designed the dimensions of this set to perfectly fit inside a small cardboard box I got at a craft store. Consider storage when you are planning dimensions!
Procedure
Step 1: Build the structure
The first thing we need to do is to build the basic structure. First we need to cut out the walls from corrugated cardboard. You will need two sides (5 cm x 12 cm) and two ends (5 cm x 5 cm). Next, make a base by cutting some card to 12.7 cm x 5 cm. To assemble, hot glue the ends and sides on top of the card. The 5 cm side should be on the end of the card base with the sides just inside of that. I used hot glue so everything would set faster.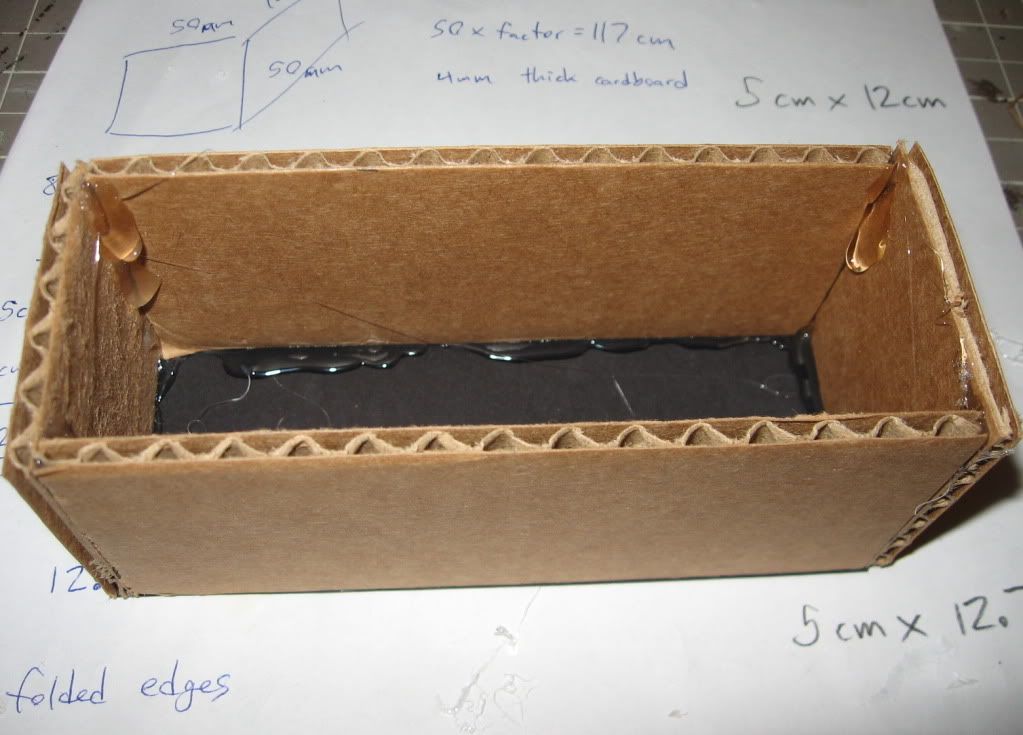 Step 2: Add siding
Next we need to add siding. Cut three strips of the corrugated siding 12.7 cm x 5 cm. Glue these onto the top and sides. Most shipping containers have the lines on the side oriented vertically. I did a bit of both by error and for variety. I glued these on with hot glue to save time.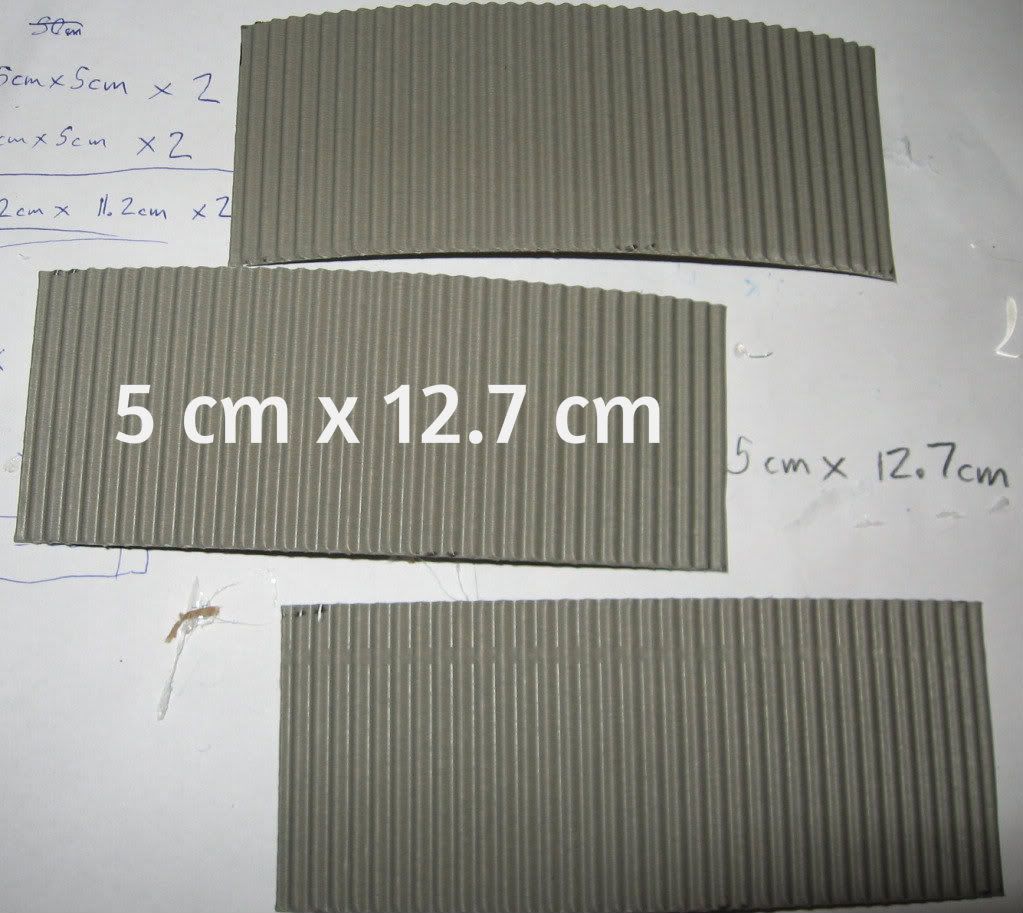 Step 3: Doors
To build simple doors I either added small bits of card of corrugated card to the front or simply scored doors into the cardboard on one of the ends. We will detail it later.
Step 4: Corners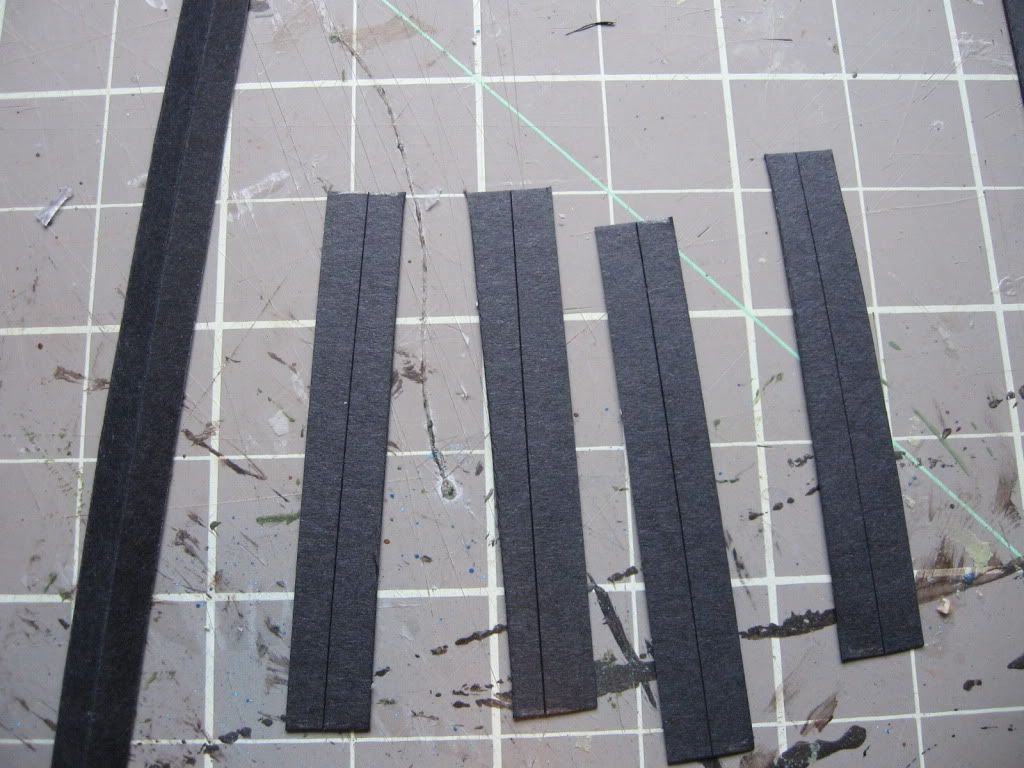 To finish the corners I added card strips on all of the edges. I cut the cardstock into 8mm wide strips. I then scored them in the middle (4mm). Carefully line up your ruler and lightly cut part way through the cardstock to score it. This will make it easier to fold. Cut some 4 mm strips for the bottom. Cut the side pieces to length. You need 2 x 12.7 cm (sides) and 6 x 5.6 cm (ends and corners) of the 8 cm strips. You will need 2 x 12.7 cm and 2 x 5.6 cm of the 4 mm strips for the bottom. You could cut mitred corners (45 degree angles) but I didn't bother. Bend the 8 mm wide strips along the scored line by bending it over a sharp 90 degree corner like the edge of a table or ruler. Glue the strips in place by carefully applying hot glue.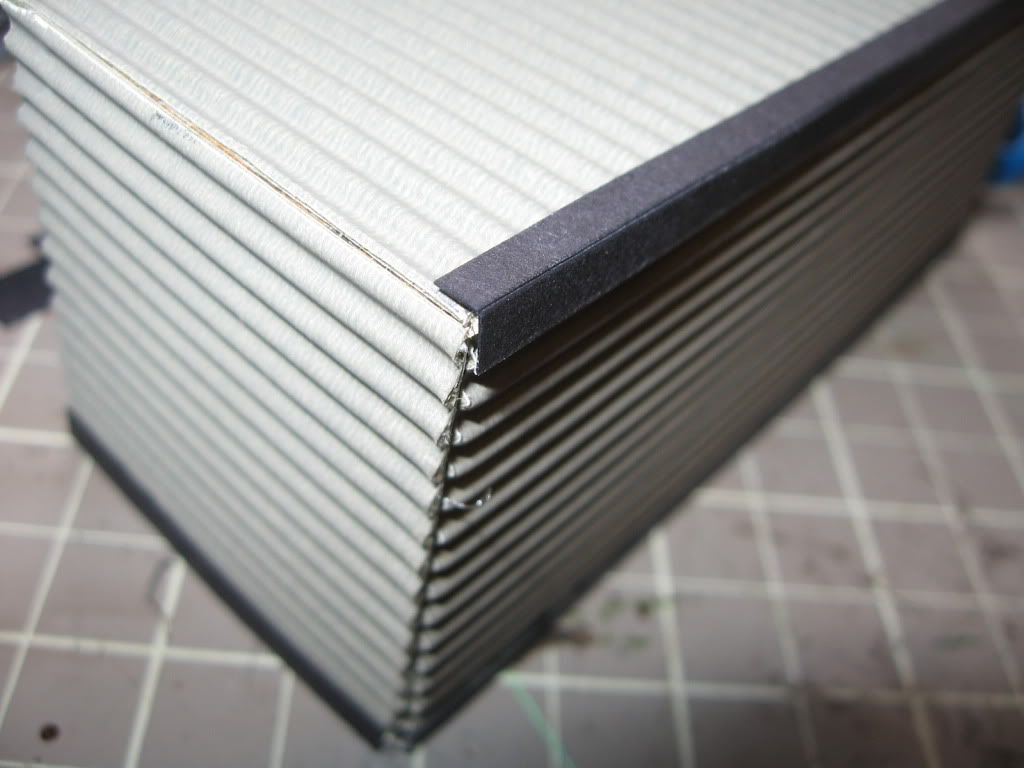 Step 5: Magnets
I added magnets to the top of some containers and the bottom of others so that in games I could stack them and have them hold more securely. This step is 100% optional. Adding them before painting allows them to look like part of the structure.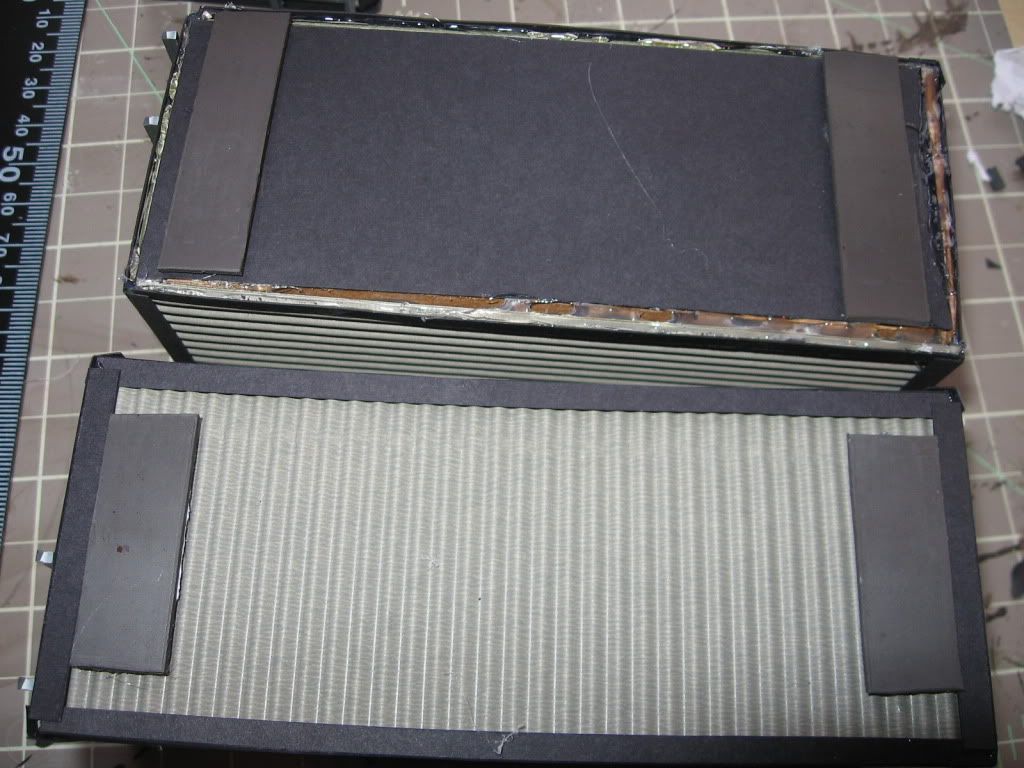 Step 6: Details
You could go crazy in this section. Add whatever details you like to increase the detail and realism. I like to add just a few quick details. I added some strips for reinforcement on the back. I added some little strips for latches on the doors. I added some plasticard tubing for the rods on the doors and added some ladders on the back for access in games. I used superglue to glue on the details so I could get a bit more precision for the small parts and to hold the plastic more securely.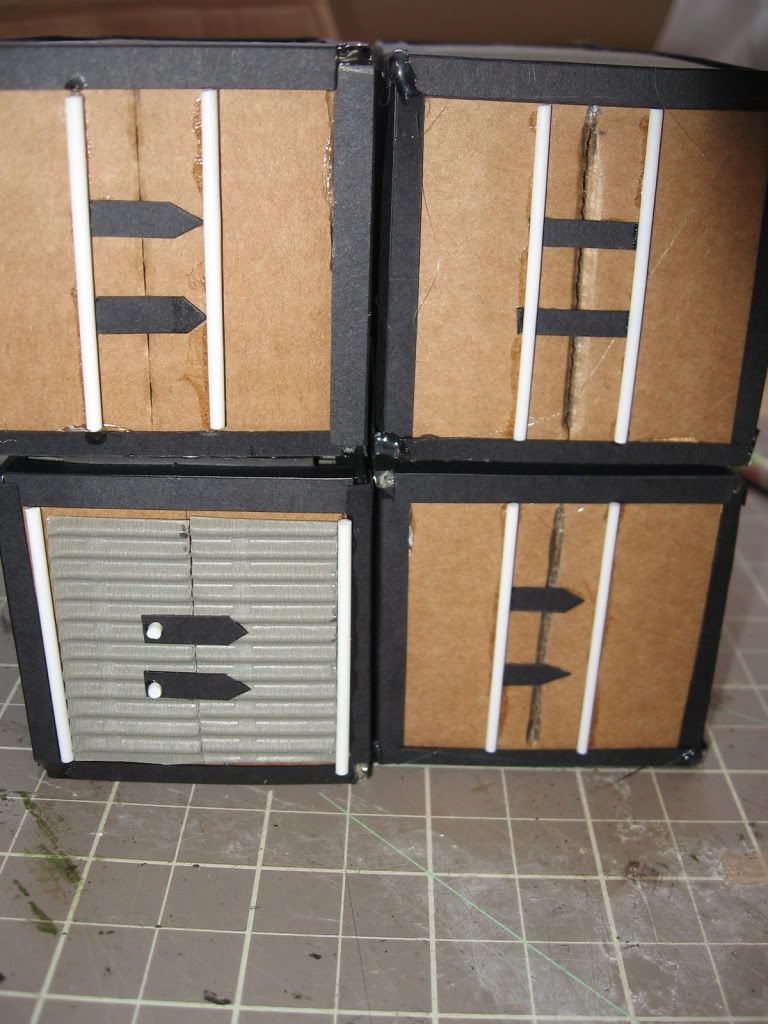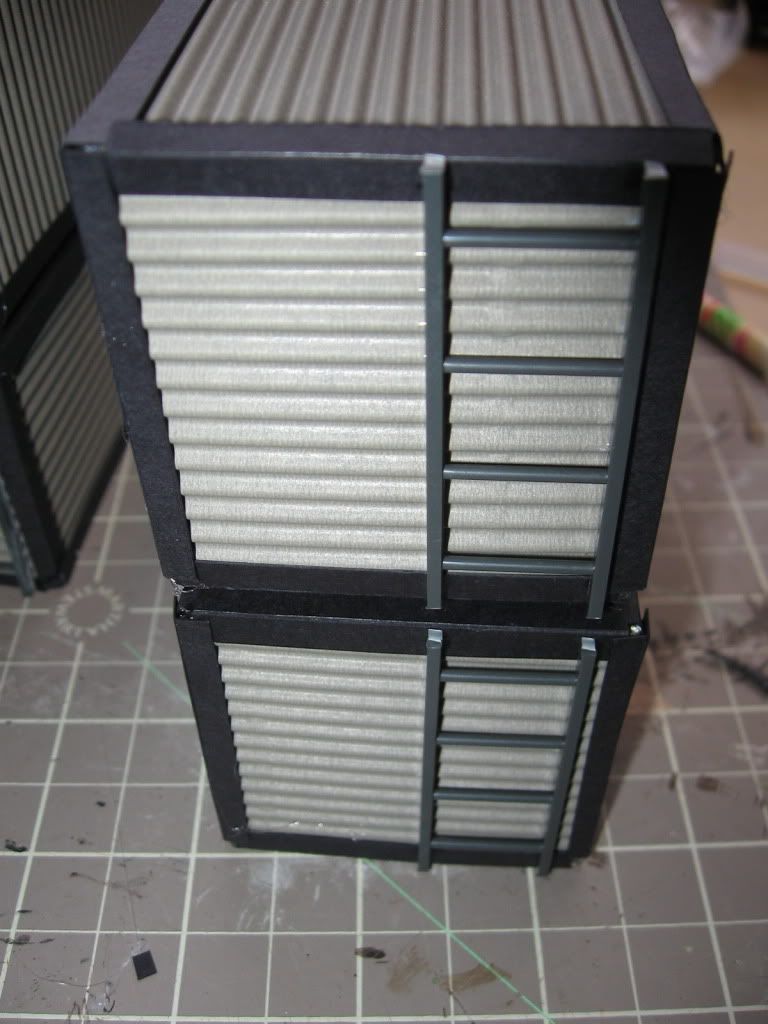 That is all there is to the construction. Building a few at a time definitely saves time.
Check back in the next few days when I will add a tutorial on how to paint these both with an airbrush and with a regular brush.
Other shipping container links