I've finished painting the first Flames of War models for my 11th. Armoured Division. This platoon is a platoon of two Sherman Vs and two Firefly Vcs for the British 11th Armoured Division during Operation Market Garden. These are my first actual Flames of War and 15mm models. All of the models are from the excellent new Open Fire starter set.
When I began this project I thought that a British Tank Squadron would be pretty quick to paint up. As usual, I got a bit carried away with the details and blending and it ended up taking me a lot longer than I expected. The decals alone took me about an hour and a half to apply and many hours of research. All of the decals are from the excellent
Dom's Decals
. I'll talk more about the decals and markings in another post though.
Painting in the 15mm scale was a new challenge for me. Some of the things I am used to doing at a larger scale did not work as well. I found that in some areas I could not highlight with quite as much high contrast as it would not make sense for the scale. I also found that in some areas, like the uniform on the tank commander, that I had to use a higher contrast than usual to get the details to "pop". I really wanted to add more highlights to the tank commander, but I restricted myself to just some washing and a single highlight as I didn't want the highlights to be too extreme on the skin.
I did all of the base colours with an airbrush. I based it with Vallejo Model Air (VMA) German Grey, airbrushed shadows with VMA Olive Drab and the built up some highlights using Vallejo Model Colour Russian Uniform and then a final highlight of 6:1 Russian Uniform:VMA Sand. I then did some line highlights at the tops of the panels using the Russian Uniform and Sand mix. I then added the decals. After I painted the tracks and stowage and things I washed the model with thinned down Devlan mud to add some depth to some of the smaller details.
The jump into historical gaming has been a bit of a shock. I've found that people are extremely helpful but a lot of people are also pretty picky about the historical accuracy of the details. I got a bit of criticism for modelling sandbags (apparently they were mostly used by American tanks) and for painting the hull machine gun silver (it should be green and black).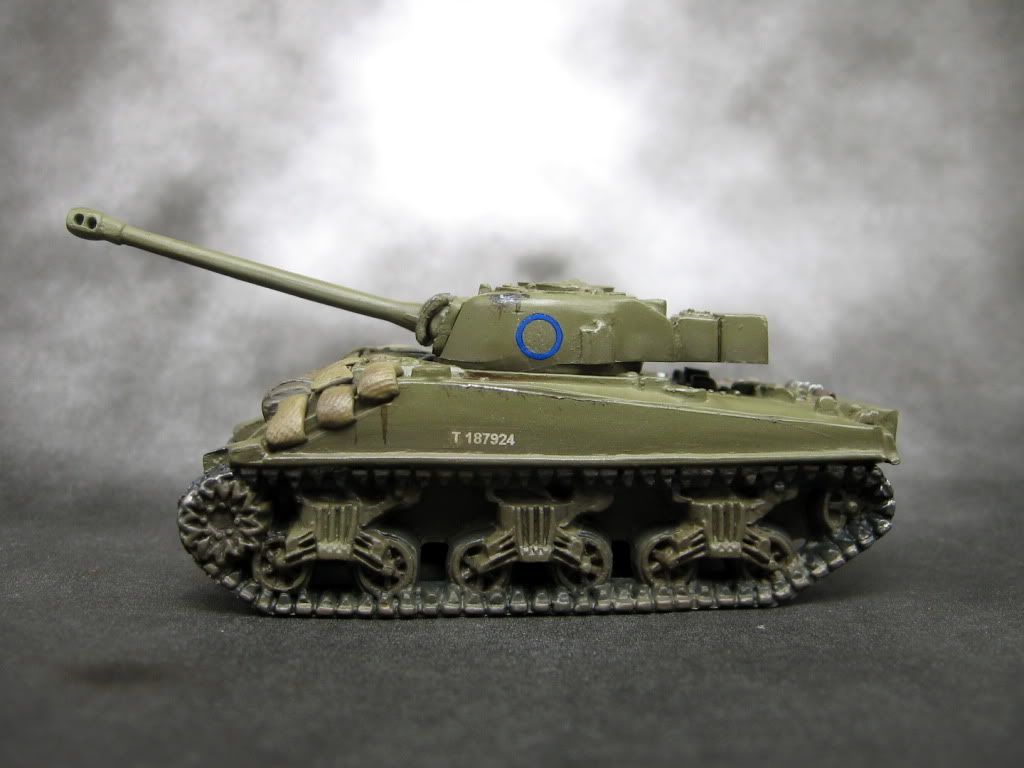 You can see the airbrushed gradient on the side here.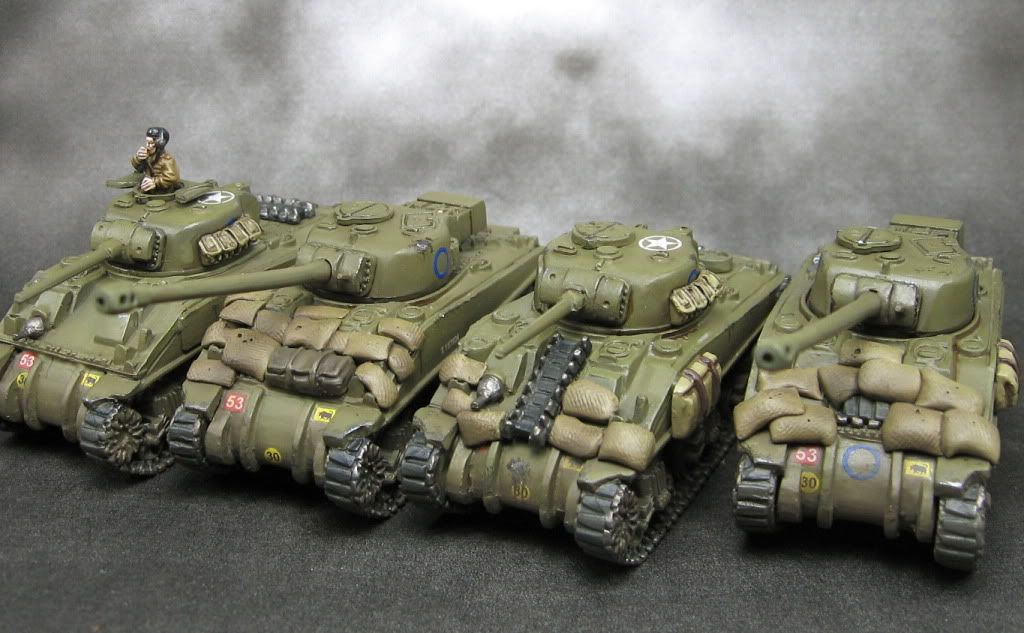 I really enjoyed painting and weathering these models. I am excited to see how the whole squadron will look together on the tabletop. I am a bit nervous about the variations in the green colour that I am likely to get though. I have lots of ideas for some new reviews and tutorials to share. If there is anything you are interested in knowing about these models then I would be more than happy to share.
With a lot of local gaming opportunities for Flames of War, I should be getting plenty more of these models finished soon. I have another four Shermans assembled on my painting desk. Thanks for visiting.