After a lot of discussion on this blog and the forums on the
disc camouflage panther
I posted this week I thought it would be interesting to have a bit of an open community discussion about the best way to paint this interesting camouflage pattern on 15mm models.
Disc camouflage is a complex camouflage scheme. Those working with 1/35 scale models have the luxury of commercially produced stencils and decal transfers to more easily recreate this look. Unfortunately for 15mm these products are not currently available. Here are a few images of disc camouflage in period photographs.
From militarymodelling.com.
Image from Archer Transfers, who make a set of decals of this pattern for 1/35 scale models.

On the Flames of War website, the "Art of Hinterhalt" series tried to recreate this pattern using two different methods. In the
first method
, the author uses a piece of plasticard to stamp the dunkelgelb areas between the disks onto the model. The end results looks good but doesn't recreate the look of the circular discs used.
The second method uses masking to create a "corn chip" effect of areas that are not masked. Once again, I think this recreates the overall look but does not create the appearance of the distinctive disc outlines. Both of these methods also result in a hard-edged look whereas the disc pattern has the areas fading into each other.
I have tried a number of different methods to recreate this pattern in 15mm. Unfortunately, I have not found the perfect method yet. I used
masks cut with a hole punch
to paint the Panther shown at the top of this article. The issue with this method is that the "discs" do not overlap and the areas between them are much to large. The discs themselves are also too large.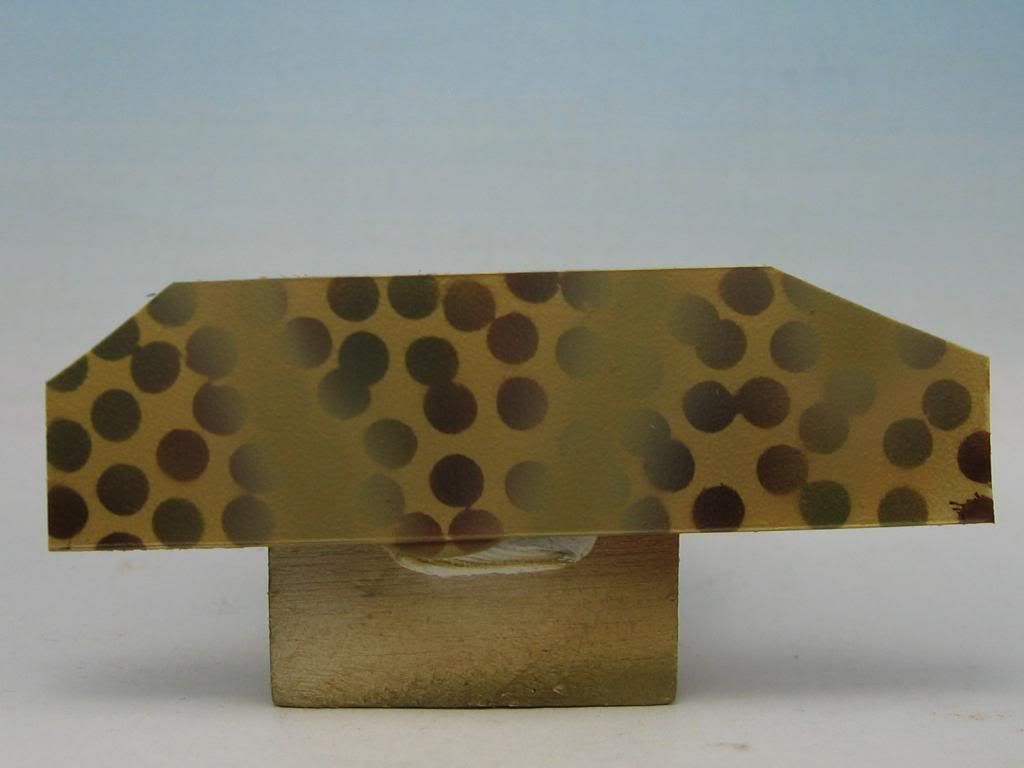 Another method I tried (that I have not shown on this blog yet) involved painting a tricolour camouflage pattern and then covering the entire model in tiny foam dots. The time it would take to cover an entire model makes this method ridiculous for anything but a one-off display piece. It took me around an hour (or maybe more!) to simply cover this tiny piece of schurzen with the dots and a lot of time to remove the things afterwards.
And they didn't come off cleanly...
The last method I have tried is so make a pattern for the holes in between the discs. This is the closest to what was actually done (a pattern of overlapping discs was placed over the tricolour camouflage and the dunkelgelb colour was sprayed through). I didn't follow through with this pattern on a model though as it was hard to get good coverage with the dunkelgelb and it was hard to see the pattern on a small test model (an old sherman) that I tried this on. I may revisit this method again in the future.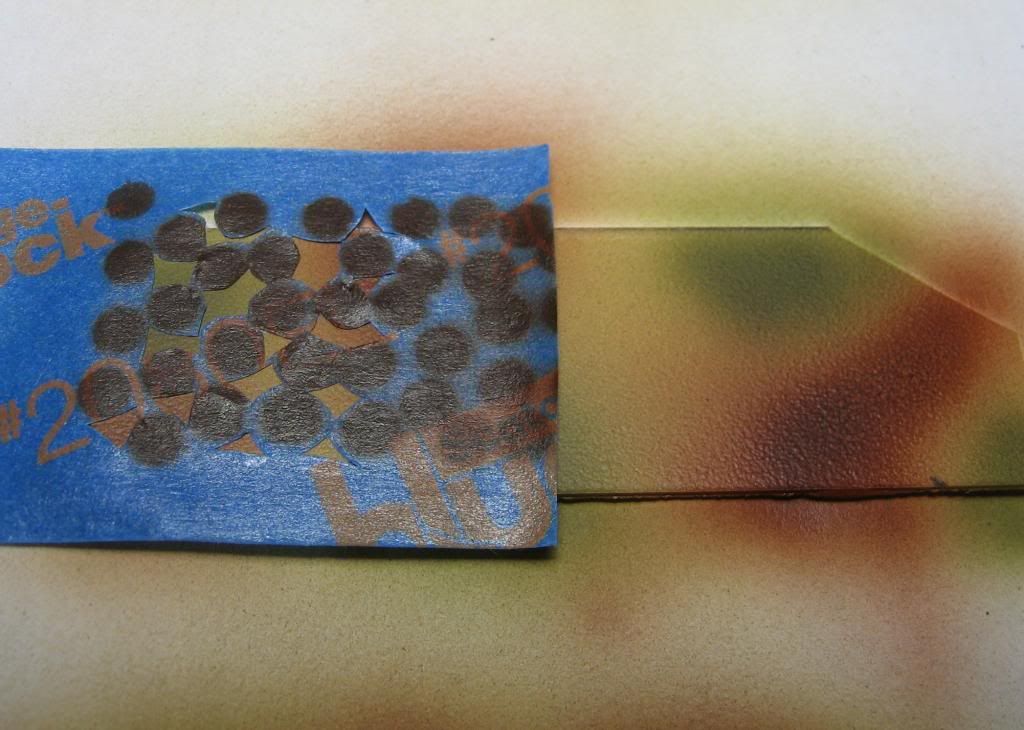 I made the template by spraying one stencil through it and then cutting the holes between the dots.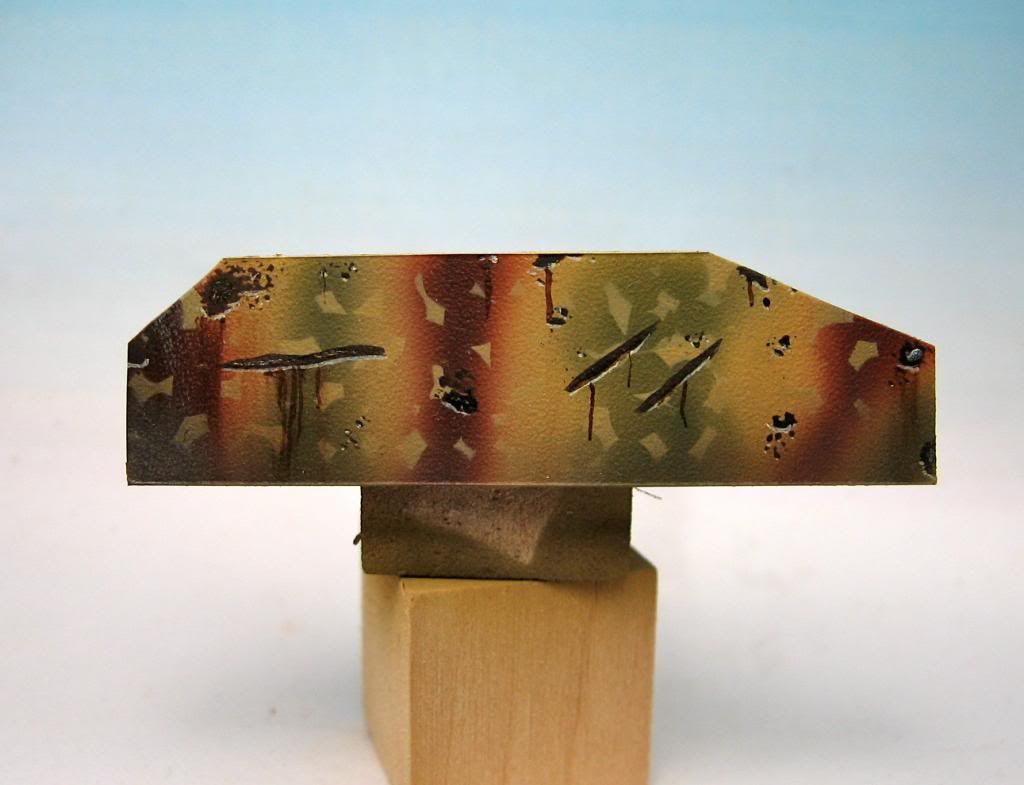 So, after all of this we are left with five different methods for attempting to recreate the disc camouflage pattern in 15mm scale. I am not sure that any of these methods perfectly recreate the intended effect. My personal thoughts are that the final method probably comes the closest. I like my polka dot panther but I don't think that it really recreates the overall look I was going for. The dots are too dominant.
I would like to hear which methods you think look the best and are reasonable to recreate across an entire model. Do you have others ideas for better ways to recreate this look? Have you tried to paint disc camouflage at this scale (if so, please share a link to your pictures!). I'm really interested to hear what everyone has to say. More input and research and practice can possibly help us to find a method or technique that will allow us to recreate this interesting pattern at this scale. Thanks for visiting and thank you to everyone who took the time to give both positive and negative comments on my previous tests and models. I will look forward to hearing your thoughts in the comments!
Tutorials for painting German camouflage: