Command stand.
I've finished the first seven stands of a platoon of 101st Airborne Division US Paratroopers for Flames of War. These models are the plastic Open Fire starter set paratroopers. I still have two stands to complete before the full platoon is finished but I can field them with only seven stands.
These models were really nice to paint. There are a few flat spots and strange bits inherent in one piece plastic models. The details are very crisp and easy to paint when compared to the metal battlefront models. The quality of the details on the jackets and pockets make them much easier to paint than the sometimes ambiguous detail on the metal infantry models in 15mm. The facial details are also much more realistic.
Mortar
I based the models using some pumice gel and used static grass, and Army Painter flowers and winter tufts. The sandbags and barbed wire are scratch built. If there is interest, I can do a short tutorial on how I based the infantry models.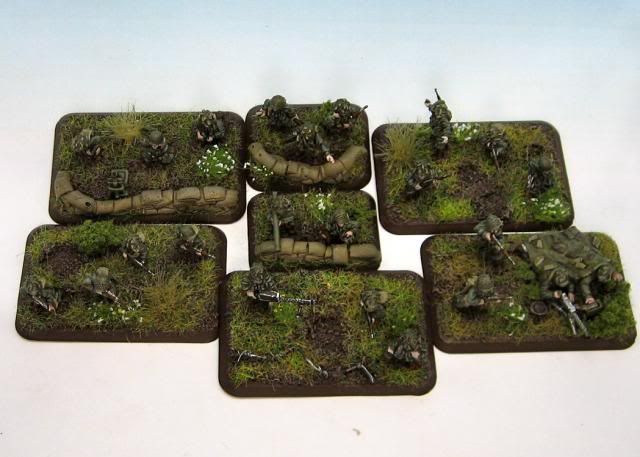 I still need to add some water effects into the craters.
Bazooka
I've used this platoon frequently in my Market Garden 11th Armoured Division sherman company. They are great for defending an objective. I've found they have a bit of a tough time attacking as the only infantry alongside my armour. Fearless Veteran infantry seem to worry people and my opponents always spend time worrying about where they will attack. I really wish I could get a transport them to speed up their movement across the board (I have some lorried rifles waiting for paint to solve that problem).
Machine gun. The camo net is made from greenstuff.
I've been getting a few games in and a bit of painting done. I have a heavy mortar platoon in progress that I will show in the next few days. You can see some
earlier work in progress pictures of this platoon here
.
I've really enjoyed painting this platoon and am really hoping to get a few more german Open Fire infantry for a german force I am working on. If anyone has some sitting around I would to love to buy them off of you. Just send me a message through the contact form or post a comment below.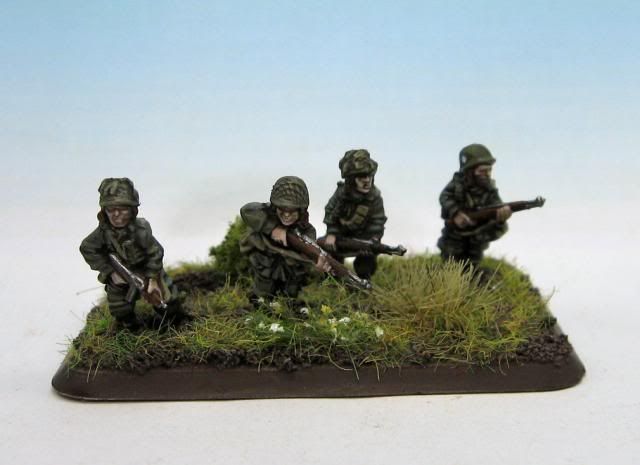 Thanks for visiting.